BOOK tECHNICAL DATA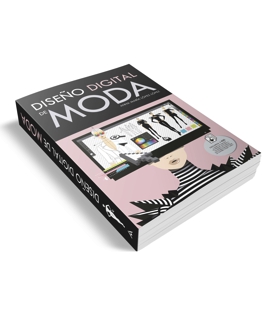 BOOK TITLE:
Diseño Digital de Moda
Language : Spanish
EDITORIAL Publisher: Anaya Multimedia
AUTHOR:
Anna María López López
Nº of pages : 352
Paperback
ISBN-10: 844153974X
ISBN-13: 978-8441539747
Book Dimensions:
8.3 x 1.2 x 10.6 inches
Shipping Weight: 3.4 pounds
Price without VAT: 38,37€
Price with VAT: 39,90€

The most complete and recommended book for learning digital fashion design techniques
The bestseller book titled - Diseño Digital de Moda -( Digital Fashion Design ) is the reference book dedicated entirely to fashion design by computer, published in Spanish language, by well-known publisher ANAYA Multimedia Editorial ( Madrid - SPAIN) and used as textbook in fashion schools in Spanish speaking countries.
The book with 352 pages is more than just a how-to manual, Diseno Digital de Moda introduces readers to specialised fashion design software and ways to think about designing fashion apparel and textile patterns designs using latest technology. Early chapters provide an introduction to CAD-CAM uses in fashion industry and its evolution from the last century, showing the different ways designers have integrated computers in their daily creative process. Later sections offer application exercises that develop skills in fashion design by computer and textile pattern design focusing in the commands and capabilities of standart vector design programs like Adobe Illustrator and CorelDRAW .
Available with an accompanying website, readers can download exclusive aditional content like the files for following the step-by-steps exercises of the book, stylised and technical fashion figure templates ready for designing men, women and kids fashion and a big collection of profesional fashion flats cliparts
Along its 352 full colour pages, the book features a curated selection of digital fashion sketches and apparel designs created by international contemporary fashion designers and illustrators, showing off real professional examples of the best digital fashion design.


The book titled Diseño Digital de Moda is written by Anna Maria Lopez Lopez a Spanish renowned designer and book writer, specialist in computer-aided design, fashion and trends, with more than 20 years of experience and 12 published books.


Diseño Digital de Moda is a recommended text book for aspiring fashion designers and fashion illustrators who wants to convert the computer in the best creation tool for fashion designing.

A must-have for all fashion designers and fashion lover, even in you don´t read Spanish !
At this moment the book is available in Spain and LATAM bookstores.

For international orders (rest of Europe , USA, Japan, etc ) you can buy it on-line throught these recommended sellers in AMAZON.com or directly via AMAZON.CO.UK